Welcome to LX Jiu-Jitsu & Self Defense
Leonardo Xavier is a Rickson Gracie fifth degree black belt with over 20 years of experience teaching Gracie Jiu-Jitsu. He is the only jiu-jitsu professor in the Houston area certified to teach by the original and most traditional jiu-jitsu school in the world, the Academia Gracie de Jiu-Jitsu in Rio de Janeiro, Brazil (Gracie Humaitá Academy) and by the legendary Master Rickson Gracie. Recognized as a world-class authority of the art and one of its most charismatic professors, few people can match his deep technical knowledge and his passion for teaching. His mission is to continue the legacy of his instructors by preserving and sharing the principles of Gracie Jiu-Jitsu with the community as a complete self-defense system that can benefit anyone regardless of age, gender or athletic ability.
ADULT PROGRAMS
Our Adult Program is a great way to learn the most effective self-defense system that enables practitioners to neutralize attackers of any size. Increase the awareness of your surroundings and gain self-confidence as you learn to defend yourself and your family from armed and barehanded attackers.
YOUTH PROGRAMS
Our Little Wizards Bully Proof Program is a fun and exciting way to promote a healthy and active lifestyle for your child. Kids of all ages and varying athletic ability can increase their focus, discipline, fitness and overall quality of life while learning the proven self-defense techniques of Gracie Jiu-Jitsu.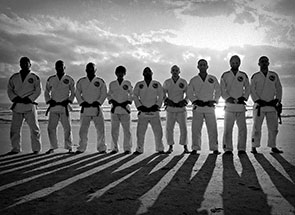 LATEST NEWS
LX Jiu Jitsu
Dear LX Students and Parents, We hope everyone is doing well and healthy and is staying safe during these trying times. We want to reach out to our LX Family and invite you to join our private Facebook group page for our kids program where we can share updates and news about what is going on with the school. We are also working on an online class for our kids to log on and take a virtual class with us.  By requesting to join, we will be able [...]
ONLINE COURSES
The LX Academy offers a collection of online video courses for beginners and experienced practitioners alike. Once a course is purchased, you will also have the opportunity to join a monthly membership program and gain additional access.
SEMINARS
Register or request a group seminar with LX and drink from the source. Prof. Leonardo Xavier has gained a vast amount of knowledge through years of training in Gracie jiu-jitsu at the original Academia Gracie de Jiu-Jitsu.
LX GEAR STORE
Shop online 24/7 for LX Jiu-jitsu & Self-defense kimonos, tees, hats, beanies, hoodies, rash guards, stickers, shorts, water bottles,  and many more pieces of branded merchandise by LX Jiu-jitsu, and the legendary Rickson Gracie.
COURSES | SEMINARS | CERTIFICATIONS
Date/Time
Event

May 8th, 2021

10:00 am — 12:00 pm

LX Jiu-jitsu & Self-Defense, Sugar Land TX
"Me and Leo have a long history. He is doing an outstanding job in Texas and he's always been a great guy, tough competitor, and loyal student. His personality, technical level are all great. A guy like that is not exactly one you find in trees. I'm proud to be his friend and support his cause."
– Rickson Gracie
The best fighter of all times
NEED DIRECTIONS?
4th degree black belt Leonardo Xavier cordially invites you to try a free introductory lesson. Visit the LX Jiu-Jitsu Academy and come learn from a certified professor of traditional Gracie Jiu-Jitsu.